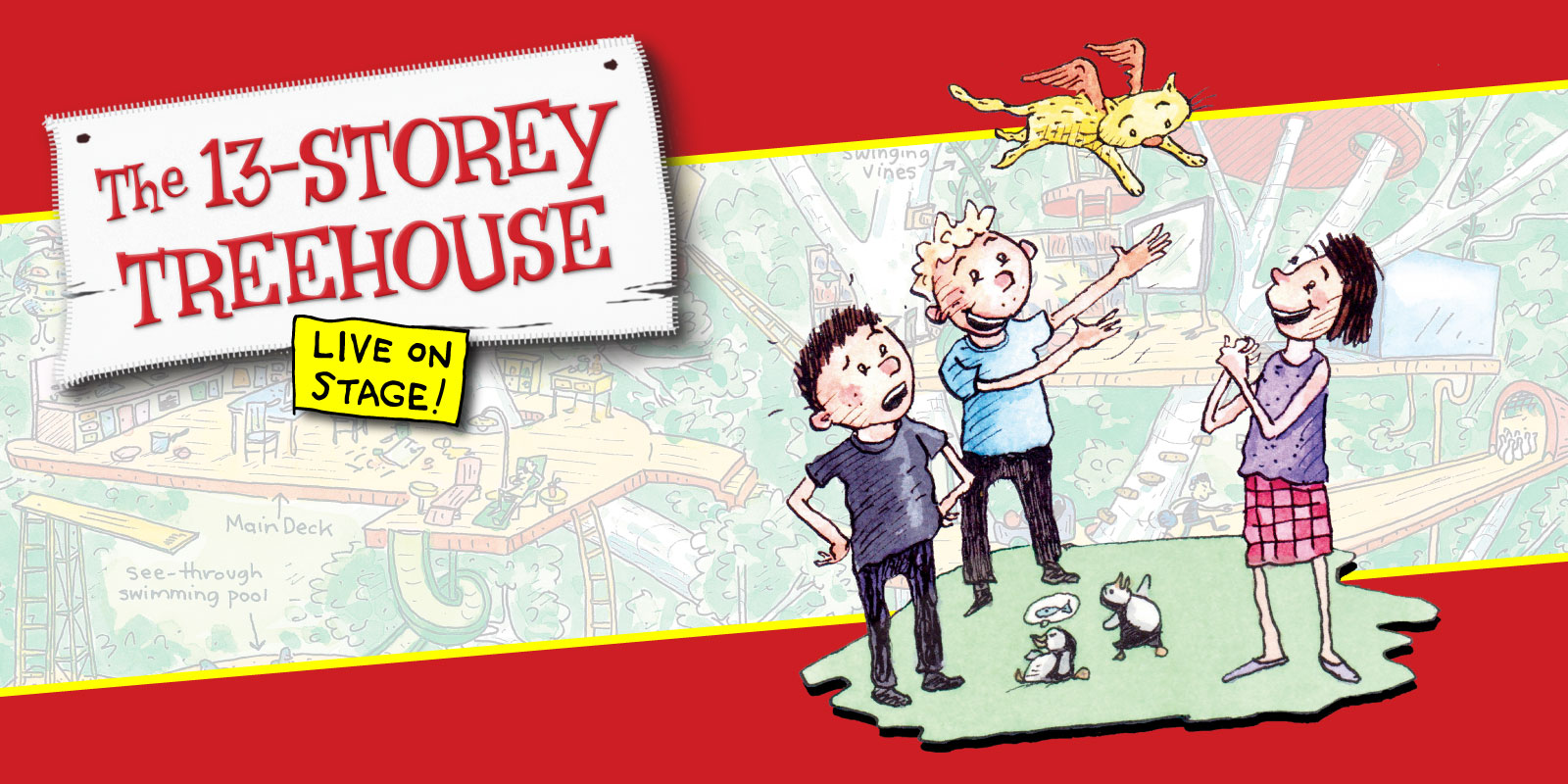 The 13-Storey Treehouse
Past performance
A CDP Kids production
THE 13-STOREY TREEHOUSE
A play by Richard Tulloch
Adapted from the multi-award winning book by Andy Griffiths and Terry Denton
Would you please welcome to the stage… Andy and Terry!
Yes that's right. Today's the day Andy and Terry are going to bring their stories to life in their first EVER play – except they forgot to write it!
Where will they find flying cats, a mermaid, a sea monster, an invasion of monkeys, and a giant gorilla?
Here is your chance to see the first show in the award-winning 'Treehouse' series, based on Andy Griffiths' and Terry Denton's best-selling book. Following sold out seasons across the country, the one and only, super-famous, ultra-brilliant, runaway success, The 13-Storey Treehouse returns to the stage. AND YOU'RE INVITED!
Adapted by Richard Tulloch (The Book of Everything, Bananas in Pyjamas), this hugely successful play is brought to life by a seriously funny cast with magical moments of theatrical wizardry and a truckload of imagination!
Recommended for children aged 6+ and their grown-ups.
"My eight year old co-reviewer loved the show… has the kids engaged and amused from the outset." THE AUSTRALIAN
"Wow!…goes to the edge of the ridiculous to get a laugh."
SYDNEY MORNING HERALD
Performances
Thursday 12 May, 6:00pm
Saturday 14 May, 10:00am, 12:00pm and 3:00pm
Sunday 15 May, 10:00am, 12:00pm and 3:00pm
Duration
55 minutes
Cost
A Reserve $42.00
B Reserve $33.00
*Vacation Care Groups 20+ $22.00
Child Note
Children 12 months and under are admitted free as long as they are on a parent/carer's lap
COVIDSafe
Patrons must read and adhere to our COVIDSafe guidelines when visiting